#TBT: The Quest for Pierre Robert's Lost Glasses
If you take a cab on the regular, there's a chance you may have forgotten something and thought to yourself, "What the heck am I going to do?!"
We get it — it happens. Luckily the folks at our Taxi Lost and Found team can help get you reunited with your lost item, big or small.
A few years ago, Philly's Pierre Robert from 93.3 WMMR lost his glasses in a cab.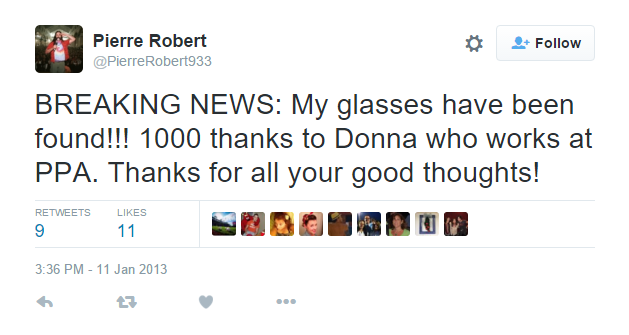 Just like many others, Robert was left thinking, "Welp, there's nothing I can do. They're lost forever." Luckily he caught wind that our Taxi Lost and Found doesn't mess around with cab complaints or lost and found issues. See for yourself here.
After Robert spoke with Donna Kerwick, our in-house taxi detective, Robert's glasses were found shortly after. Leading up to that, we're sure Robert's pals, Preston and Steve, were probably thinking this. FYI — it's an inside joke if you're not an avid listener of WMMR.
After being reunited with his glasses, Robert expressed his gratitude on social media AND invited Donna onto his show!
You get the point: If you lost something in a cab, we want to help! So if you ever find yourself in the same situation Robert was in, here's what to do:
Gather as much of the following information as you can:
Cab P # (located on rear bumper or behind driver-side seat)

Description of the lost item

Pick-up location

Drop-off location

Last four digits of credit card (if you used one to pay the fare)

Your contact information (email and phone number)
Take the above information and send it to:

Our Taxi and Limousine Division at:
          OR
Once you send the information along, just sit tight for a little and someone will get in touch with you!