Parking for People With Disabilities
The PPA administers a program which establishes reserved parking zones at the residences of people with disabilities.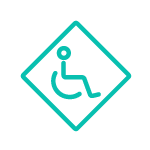 Apply for a Disabled Persons Parking Sign
Disabled Persons Parking Sign Application
Mail your completed form to:
Philadelphia Parking Authority
Attn: Reserved Residential Parking for People with Disabilities
701 Market Street
Philadelphia, PA 19106
If you have any questions or to request an application, please call 215-683-9746.

Report Disabled Persons Parking Zone Abuse
Disabled Persons Parking Zone Abuse Form
Eligibility
Applicant must submit a physician's certification of disability from their treating physician, which will be reviewed and approved or denied at Moss Rehabilitation Hospital.
Terms and Fees
This program is free of charge to eligible residents. Zones are reviewed on a one to three year cycle to determine if they are still necessary.
Apply for a Person with Disability Parking Plate
Apply for a disability plate at the: Pennsylvania Driver and Vehicle Services site.