Permit Information
The Philadelphia Parking Authority is dedicated to accommodating the particular parking needs and uses of the city's business and residential areas.
We administer several parking permit programs that address specific local needs and maximize parking opportunities – thus improving quality of life for all of us who live, work and do business in the City.
CUSTOMER ALERT:
The Registration Suspend, RPP, and Contractor Parking departments will no longer accept cash at the office at 35. N 8th Street. We will accept credit cards, debit cards, checks, and postal money orders.
Temporarily Prohibit Parking for Moving Truck, Container Placement, Dumpster Placement & Restaurant Use Application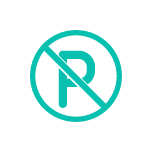 Philadelphia's Streets Department Highway Right-of-Way Unit administers temporary parking prohibition permits.
Please click below for additional information