International Parking & Mobility Institute's Marketing & Communications Award – 2022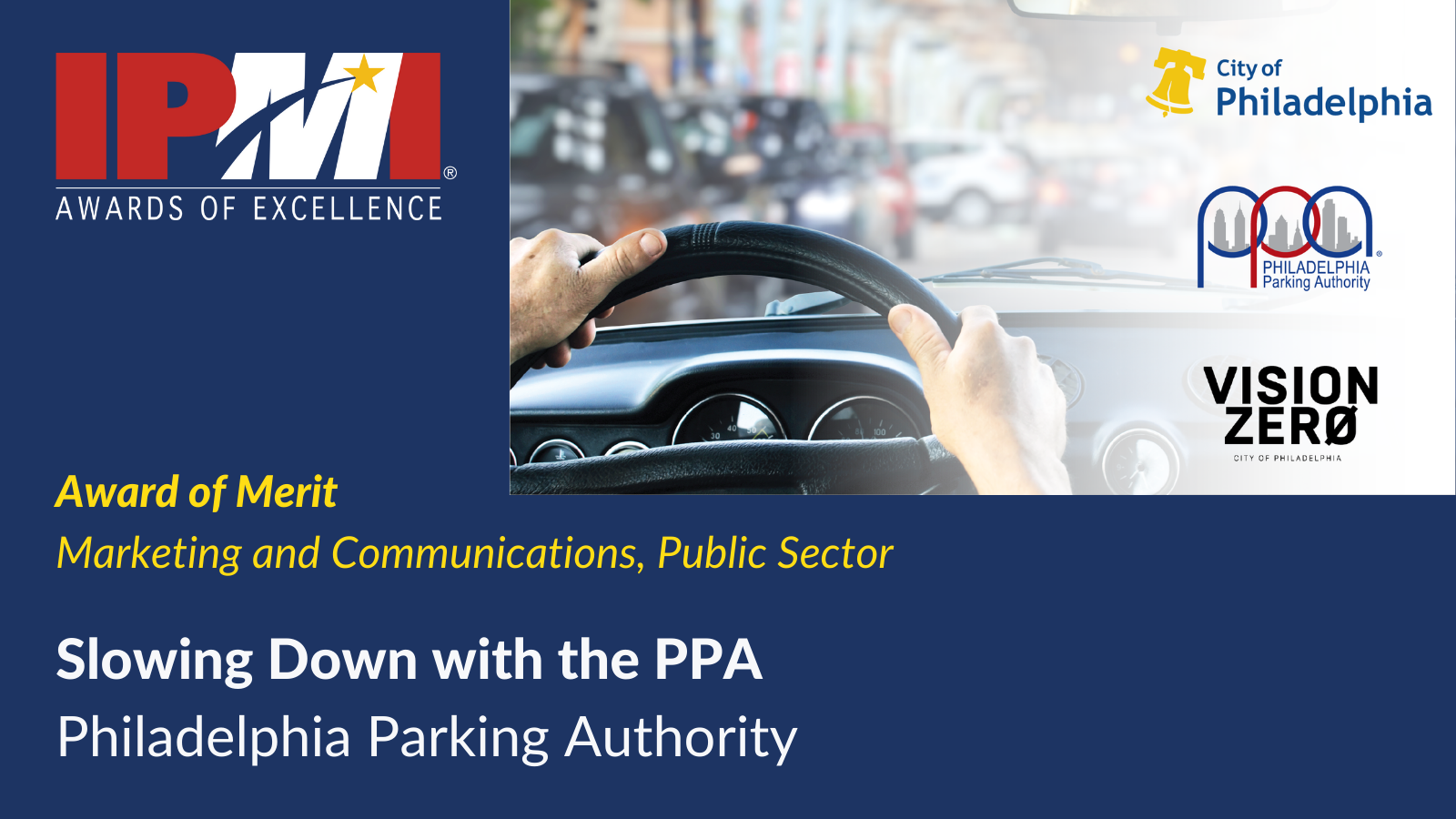 In January 2020, the Philadelphia Parking Authority (PPA), in conjunction with Verra Mobility and the Vision Zero Project, introduced an automated speed enforcement pilot program whose purpose it was to promote safe driving on Roosevelt Boulevard, which had earned the reputation as the city's most dangerous road. Eight cameras to detect speeding vehicles were installed at strategic intersections.
Raising public awareness was crucial to achieving program goals. PPA's public engagement team developed a communications strategy that would accomplish this goal across multiple media outlets. Marketing materials included informational brochures and infographics with statistics regarding aggressive drivers and accidents. Video content was created, and social media was leveraged. The press also played a big role: over a 10-day period, there were a total of 79 curated stories, with 60 directly related to the automated speed camera program.
The focused outreach efforts led to major changes in behavior and pilot program success. During the first month of the warning period, PPA mailed 224,206 violation warnings, resulting in drivers slowing down and a 93% decrease in violation issuance. During the first month of fined violations, violations decreased to 84,608. During the fiscal year 2021, issued violations decreased from 224,206 in June to 38,660 in November 2020.
Accredited Parking Organization with Distinction
The Philadelphia Parking Authority won accreditation through the International Parking & Mobility Institute's (IPMI) Accredited Parking Organization (APO) program, a certification for parking organizations that have achieved a comprehensive standard of excellence. APO recognizes best practices in responsible parking management and operations, customer service, professional development, sustainability, safety, and security.
According to IPMI, in order to receive accreditation, "an organization must demonstrate its commitment to ongoing evaluation and improvement of program outcomes through the implementation of industry best practices. Applicant organizations work with third-party reviewers to organize and present evidence of accomplishment of 250 criteria in 14 categories related to industry best practices. The APO with Distinction has only been awarded 14 times and is only reserved for organizations exceeding the standard.
Premier Rated Parking Facilities
In addition to being awarded accreditation with distinction through the International Parking & Mobility Institute's (IPMI) Accredited Parking Organization (APO) program, three Philadelphia Parking Authority facilities were rated as Premier. The Premier Facility designation is reserved for parking facilities that have met a rigorous checklist of criteria specifically designed to mirror the organizational requirements of the APO program. Additionally, Premier Facilities demonstrate that an organization's policies and procedures manifest themselves in excellence throughout the organization and its operations. All APOs must have at least one Premier Facility, but may have as many as they would like to submit under the accreditation process. Our Premier Facilities include:
Parkade on 8th 
801 Filbert Street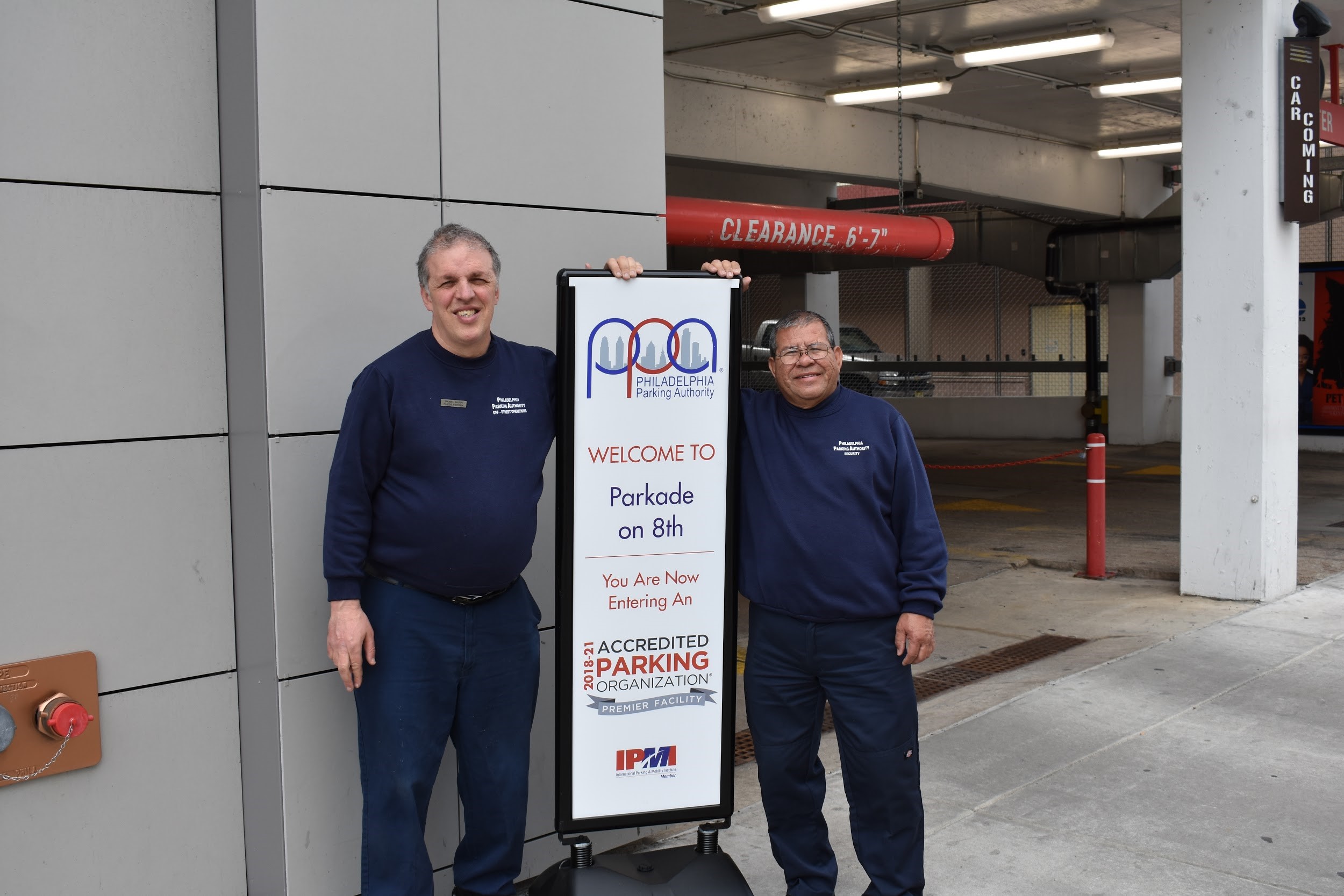 The Autopark at the Gallery Mall
44 North 9th Street
The Family Courthouse Garage
1503-11 Arch Street
GovTech Magazine's Innovation & Technology Award
On June 25th, 2019, the Philadelphia Parking Authority (PPA) was  awarded the Technology Innovation for Citizens Award by GovTech Magazine for reintroducing its mobile payment application, meterUP. In particular, this award is reserved for government entities that have utilized technology to improve service delivery, user experience and customer satisfaction.
The PPA relaunched its meterUP mobile payment application in December 2017. Since then, meterUP's popularity has continued with over three-hundred thousand downloads and three million parking transactions being completed. MeterUP's popularity and convenience is also indicated by 4.8 out of 5 rating on iOS and Google Play app stores.
In addition to the convenience of remotely paying all on-street parking meters in Philadelphia, meterUP allows a user to end their parking session early while only charging them for the time they are parked.  This feature is not available in any other first class city and is considered one of the most popular features among our customers.
International Parking & Mobility Institute's Marketing & Communications Award – 2019
In June 2019, the Philadelphia Parking Authority was recognized by the International Parking & Mobility Institute  with a Marketing & Communications Award for its creative use of informative visual content. In the past few years, the PPA has greatly increased its use of visual content through its social media channels. The primary goals of this content is to inform, educate and assist the traveling public in an engaging, easy-to-understand format. Additionally, the use of such visual content has helped facilitate a considerable increase in the PPA's social media following by over 5,000 since January 2017, accounting for a 25% overall increase. Moving forward, the PPA will continue creating, curating and disseminating new visual content to further inform, educate and assist our customers.
Outstanding Agency Accreditation Achievement 
The Philadelphia Parking Authority has received the Outstanding Agency Accreditation Achievement Award (OA4) from the National Institute for Government Purchasing (NIGP). NIGP, also known as "The Institute for Public Procurement" is regarded as one of the premier professional associations for public procurement with over 3,000 Members from the United States, Canada, and countries outside of North America.  OA4 accreditation is granted only to those members of NIGP who achieve at least 100 of a possible 132 points on a list of criteria emphasizing prominence of the procurement function in planning, budgeting, and policy making within the member organization along with adherence to current best practices in the public procurement profession. The Authority's OA4 accreditation remains in effect for a period of three (3) years.  The OA4 award formally recognizes excellence in public procurement through the establishment of a body of standards that evidence sound procurement practice. The certificate and the achievement it represents is a testament to the Authority's procurement team's commitment to professional practice and demonstrated abilities.