The More You Know: Parking Signs Explained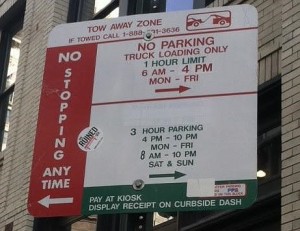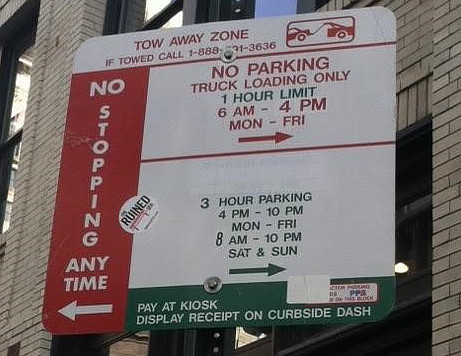 On each block of Philly you'll find something new. There's restaurants, cafes, clothing stores, maybe even a street performer playing music that can be heard for blocks or serenading  passersby. It's not just the culture and opportunities that change with each block; the parking rules do, too.
As you're taking a stroll, and if you park in the city regularly, you'll notice the Philadelphia Parking Authority (PPA) signs posted on each street. These signs outline the parking regulations for each particular block.
Since some of the signs may be difficult to understand, we'll be doing a breakdown on signs to help you easily avoid tickets. But before you read the ins and outs of the sign pictured to the left, take a look at this video tutorial courtesy of our friends at VisitPhilly! And remember — read the signs before parking!
On the left side of the sign, you clearly see the words "No Stopping Anytime," with an arrow pointing to the left. Sounds pretty self-explanatory, right? If you were to park your vehicle to the left of this sign at anytime, a ticket will be issued. So, avoid parking to the left of this sign.
To the right in red letters is "No Parking Truck Loading Only." This regulation is in effect Mondays through Fridays from 6 a.m. to 4 p.m. with a one hour time limit. So what does this mean? It means that only delivery trucks can park in this zone for one hour from 6 a.m. to 4 p.m.. If a regular vehicle (pickup truck, sedan, motorcycle, etc.) parked in this zone, it would receive a ticket. When a delivery truck is parked there, it's timed for one hour by a Parking Enforcement Officer (PEO). If the delivery truck remains parked for over an hour, it will receive a ticket.
Last but not least is three hour parking in green letters. From Monday through Friday "No Parking Truck Loading Only" regulations end at 4 p.m. This means regular vehicles can park in this zone for up to three hours between 4 p.m. and 10 p.m. But if you fast forward to Saturday and Sunday, regular vehicles can park for up to three hours from 8 a.m. to 10 p.m.
One last thing though—when you're done reading the sign, remember to pay at the nearest kiosk.
There you have it for this sign. Be sure to keep an eye on our blog because we'll be giving the run-down on different signs regularly. In the meantime, if you see a confusing sign and need any clarification, Tweet us a picture or share it with us on Facebook!