Winter Driving Tips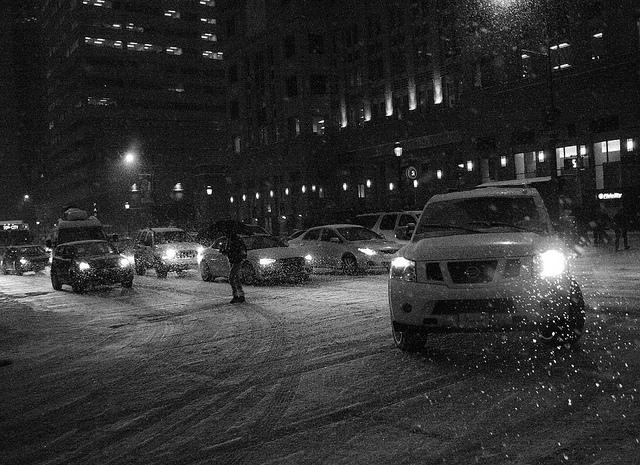 Oh winter — when we were young, we'd rejoice at your arrival. As snow would fall, our eyes were glued to the TV waiting for the much anticipated school closure announcements. If our school was on the list of closures, we'd jump for joy while our parents stood idly by with a hint of jealousy.
But where did this jealousy manifest itself? Maybe it was because they'd rather be building a snowman or snow fort all day. Or maybe it wasn't jealousy at all. Maybe it was the underlying thought of driving to work in a snowstorm.
As children, we wouldn't think about the dangers of driving in the snow. We were too busy hurling snowballs at one another before taking a hot chocolate break. Meanwhile, our parents were on the road driving at slow speeds with windshield wipers at full throttle.
Now, as adults, we're the ones having to brave the storms while our kids enjoy their fun-filled snow days. As we're driving on the icy roads during our commutes, safety should be the top priority not only for us, but other drivers.
Check out PennDOT's winter driving tips below and their winter driving guide. Also make sure you follow us on Facebook or Twitter for parking updates during snowfall.
Always buckle up.
Never drink and drive.
Stay home unless travel is absolutely
Leave earlier to allow plenty of time to get to a destination.
Inspect tires, use tires designed to operate in snow and ice, and keep tires inflated to proper levels.
Inspect wipers and wiper blades.
Keep your gas tank full.
Make sure defrosters are in good operating conditions.
Refresh washer fluid with anti-freeze type fluids that perform better.
Totally clear snow from the body of a vehicle, not just the windshield. It's against the law to cause traffic and safety hazards such as this!
Turn on headlights and flashers as needed, especially during snow squalls.
Slow down! Don't drive too fast or follow vehicles too closely.
Speeding and tailgating require more space between vehicles in order to brake effectively. Slow down and reduce the risk of swerving, skidding or sliding out of control.
Watch out for slippery bridges and ramps.
Anticipate gusting winds and snowdrifts.
Avoid distractions such as cell phones, radio or climate controls, eating and smoking.
Snowplows: Give snowplow drivers plenty of space to avoid being sprayed with anti-skid material that could temporarily impede vision. Drivers also should be careful when passing a plow truck as the plow blade may be wider than the truck. Do not tailgate a plow truck, especially while traveling on hills in hazardous weather. Do not weave in and out of a snow plow train.
Watch for PennDOT information on electronic message boards and listen to weather radio or PennDOT's Highway Advisory Radio for road conditions and traffic updates.
Homeowners: Do not shovel or blow snow from driveways or sidewalks onto roadways. This creates hazards for unsuspecting motorists.
Parents: Direct children not to play in snow banks or to sled near roadways.
Photo Credit: Steven Ives Via Flickr