#TBT AutoPark at Jefferson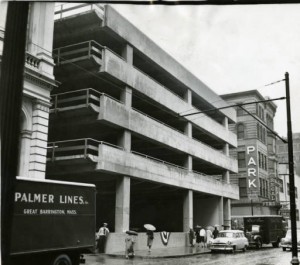 It's #TBT and the year is 1954. Elvis is flooding the airwaves, the forces of communism and capitalism are continuously butting heads, and greasers are jetting around in their new flip top convertibles. With Hound Dog blasting in the background, the new and hip flip tops were able to park in the AutoPark at Jefferson.
Built in May 1954, the AutoPark at Jefferson has stood strong and continues to provide convenient parking to Jefferson Hospital, the Gallery Mall, and of course, the many shops in the surrounding area. Located at 10th and Ludlow streets, it's the perfect jumping off point to take in the many attractions of Philly.
Obviously times have changed in the past few decades. Instead of hearing Hound Dog we're hearing Snoop Dogg and greasers have taken the form of hipsters. One can only guess what changes will come 60 years from now. Maybe a flying car AutoPark? We shall see.
The picture featured here shows the AutoPark circa 1954. The cars and clothes have changed quite a bit since then, but the structure looks about the same!
We'd like to give a shout-out to Margery Sly, Director of Special Collections Research Center at Temple University, for allowing us to use this gem of a picture.