Airport Parking
The Philadelphia Parking Authority provides the ONLY on-site parking at Philadelphia International Airport and offers the most convenient parking. Being the closest parking to the terminals makes us easy to find – just follow the signs!
Our on-site Economy lot offers 24-hour shuttle service provided by the Division of Aviation. The Authority also provides complimentary services such as, jump starts, tire changes, etc.
Your vehicle is safe with us. The parking facilities are patrolled by the Airport Police Unit of the Philadelphia Police Department. Our managers are present 24/7 in order to respond to our customers' needs. There is no need to leave your keys as you park and secure your own vehicle in all of our parking facilities.
Parking AT the Airport includes the following:
On-site at PHL
No hidden fees
Park and secure your own vehicle
Manager present 24/7
Complimentary Vehicle Services: jump-start, flat tire repair, lock-out Service, lost vehicle locator.
Staffed cashier and credit-card self service lanes at the exit plazas.
Visa, MasterCard, American Express, Discover, and Diners Club Accepted.
Other on-site parking options include Economy Parking, Garage Parking and Short Term Parking.
Map & Directions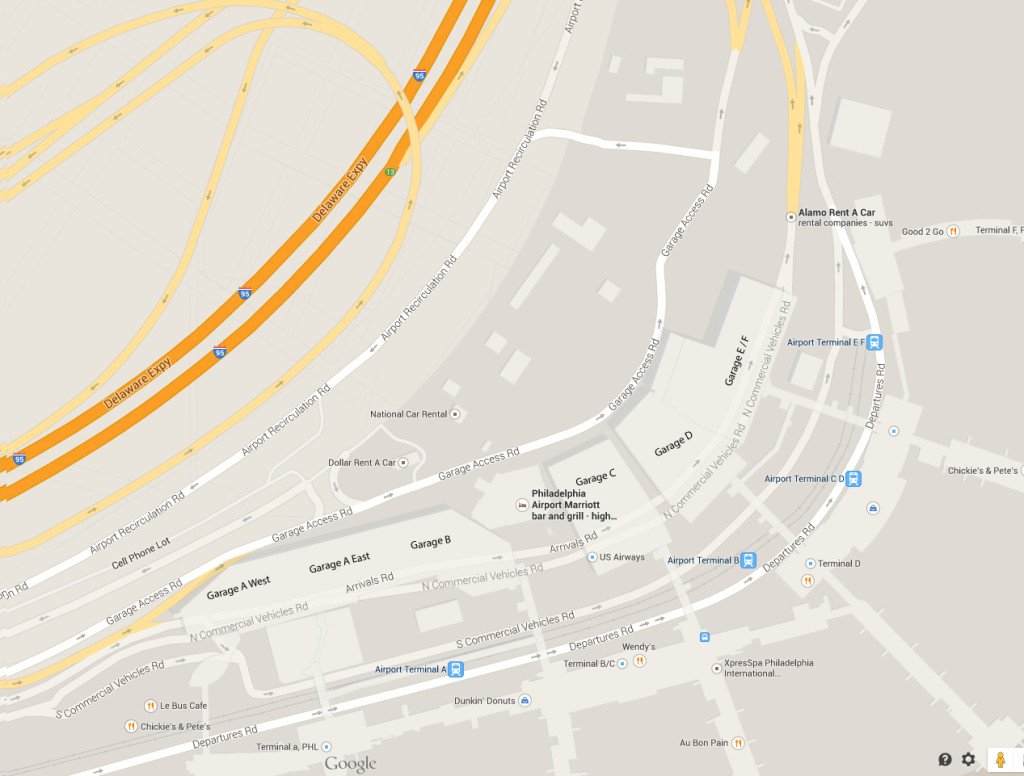 Credit Card In and Out
All of the Airport parking facilities feature convenient Credit Card In and Out technology for fast and easy access in and out of the on-site parking facilities. At the entrance, insert a credit card into the designated slot on the ticket issuing machine. The gate arm will then rise allowing ingress to the facility. When exiting, proceed to a Self-Service Credit Only automated lane. Insert the same credit card used for entering into the designated slot. Customers using a contact-free enabled credit card just need to hold the card about 3 inches from the black vertical readers at the ticket issuing machine and the patron interface box at the exit.

The complimentary shuttle bus services provided by the Division of Aviation, operate 24 hours a day. The schedule provides busses at intervals of up to every 10 minutes during peak hours and run up to every 20 minutes during off-peak hours. During busy holiday travel periods additional busses are provided for customer convenience.
There are 18,940 on-site parking spaces at the Philadelphia International Airport.
10,984 spaces are available in our Garages (Upper Levels)
7,117 in the Economy Lot
839 on the Short Term (Ground Level)
Unlike many of the off-site airport parking operators our advertised prices include all taxes and fees. There are no hidden cost and/or airport access fees.
We offer three parking options:
ECONOMY PARKING
Flat Rate, 0-24 Hours $11.00
GARAGE PARKING (Upper Levels )
Up to 1/2 hour $4.00
Up to 1 hour $6.00
Up to 1 1/2 hours $8.00
Up to 2 hours $10.00
Up to 2 1/2 hours $12.00
Up to 3 hours $15.00
Up to 3 1/2 hours $17.00
Up to 24 hours $20.00
SHORT TERM (Ground Level)
Up to 1/2 hour $4.00
Up to 1 hour $6.00
Up to 1 1/2 hours $8.00
Up to 2 hours $10.00
Up to 2 1/2 hours $12.00
Up to 3 hours $15.00
Up to 3 1/2 hours $17.00
Up to 4 hours $20.00
Up to 24 hours $40.00
Yes. All of the parking facilities have designated accessible parking spaces. Please note that some wheelchair-equipped vans that are higher than 6'2" may not fit in the garages. For special parking arrangements for oversize equipped vehicles please contact our parking operations desk at 215-683-9842 and ask to speak to a shift manager. We will do our best to accommodate the special needs of our customers.
Yes. Vehicles taller than 6'2" (excluding wheelchair-equipped vans) may not be able to fit in Garage Parking. Vehicles of any size are welcome in the Economy Lot.
Additional Information
Phone Number:
215-683-9840
Mailing Address:
Philadelphia Parking Authority
Airport Operations Division
1 Main Toll Plaza Philadelphia, PA 19153
Email:
airport@philapark.org