PPA Airport Operations 10th Anniversary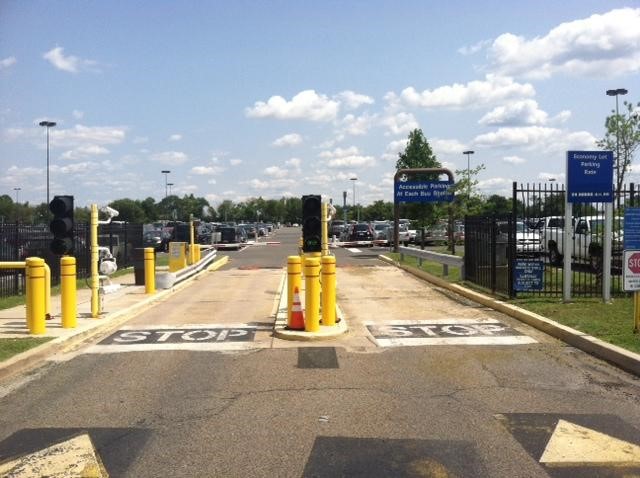 If you live in the greater Philadelphia area, you've probably flown out of the Philadelphia International Airport
(PHL). But before you checked in your luggage and made a beeline to your gate, where did you leave your car? Well, if you didn't take SEPTA, there's a good chance you parked with us before taking to the skies.
For the past 10 years, the Philadelphia Parking Authority (PPA) has operated the PHL's parking facilities. From the very moment the PPA began operating PHL's parking, our airport staff has strived to provide convenient, affordable and hassle-free parking — and they've done just that.
Let's take a look at the improvements we've made in the past 10 years.
Economy Parking:
Ten years ago our airport economy lots held roughly 4,100 parking spaces. Yeah — that seems like a lot, doesn't it? But guess how many they hold now? Well if you add 3,000 to 4,100, you'll get your answer. That's right: We've expanded the economy lots by 3,000 spaces in 10 years. Believe it or not, our economy lots offer more than just parking. Check out everything our economy parking has to offer here.
Technological Enhancements:
Aside from adding parking spaces, we've also beefed up our use of new technologies that weren't available a decade ago. By using these new technologies, we've greatly enhanced customer service experiences and cut back on paper usage by printing 30,000 less tickets per month!
Credit Card In and Out
Some of our enhancements include ways to get you in and out of the parking lots faster. At our airport parking facilities, lines are a thing of the past. Why? Well, in addition to using Google Wallet, we also offer a credit card in and out service. It's simple: When entering our airport parking facilities, just have your credit card ready. At the entrance, insert the credit card into the ticket issuing machine. When exiting, just head to a Self-Service Credit Only automated lane and insert the same credit card. Also, if you have a contact-free enabled credit card, just hold the card about three inches from the vertical reader built into the ticket issuing machine and patron interface box at the exit. After that, the gates will lift and boom — you're on your merry way.
Real-time Garage Parking Availability
It's always great to know what you're walking into, or in this case driving into, right? Well, another technological enhancement we've added is our real-time garage parking availability system. The PPA website is updated every 15 minutes, so drivers can check space availability before entering our airport garages. That way you'll be able to make your flight without wandering around aimlessly looking for a parking spot.
License Plate Recognition (LPR)
The final enhancement we'll highlight is the LPR. Sometimes when you're gone for an extended period of time, you might forget where you parked your car. Trust us, with over 7,000 spaces, we understand it's easy to forget where you parked. With the LPR, we can keep track of the exact spot you parked in. LPR technology works because cameras at the entrances of the parking facilities capture every license plate of every vehicle that enters. Then, the LPR software registers that information into the PPA's database, so we can pull that information if needed. So if you forget where you parked after a long flight, let one of our team members know and we'll locate your car!
Sure, we're proud of expanding our economy lot and adding the tech features. But what are we most proud of? Our dedicated airport staff who made it happen — in only 10 years.
Frank Ragozzino, Director of Airport Operations, sums it up by saying, "I'm most proud of the workforce. It was a monumental task to take on operating at the airport. There were a number of issues we had to resolve and a lot of folks here were apprehensive when we took over airport operations. People were afraid they would lose their jobs."
Frank continues, "It took a lot of hard work in making employees aware of the policies. We couldn't go in there like gangbusters. We wanted to let them know they are part of, not to sound corny, the PPA family."